CALLAWAY PRODUCTS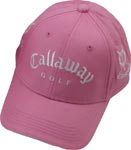 Callaway Corporate Cap- 521845
Embroidery on side
Available in White, Black, Khaki, Navy, Green, Yellow, Light Blue, Pink, Red.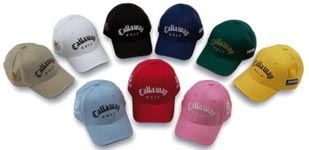 Callaway Golf Caps- 521845
Colours: Black, White, Khaki, Navy. With sandwich peak. Available with Corporate logo embroidered onto front of cap.
Minimum order - 48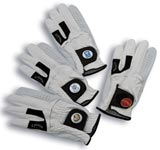 Callaway Golf Glove with Magnetic Marker
Available in White Synthetic Leather combined with Premium Cabretta.
Available in Left and Right Hand.
Available in White Only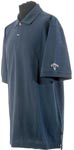 Callaway Driver Solid Pique Polo - CS15502
The 'Driver' pique shirt is a colourful and active garment from the Callaway Sport line. Representing the most recognisable brand in the world of golf globally, the Callaway Golf 'driver' pique is a great co-brand builder for your corporate logo. Short banded sleeve, two button placket shirt with solid knit collar & cuffs, split tail and a Chevron loop label on bottom left of shirt. Pre-embroidered with a Callaway Golf logo and Chevron on left sleeve and a matching Chevron on centre back neck. 40's 2ply 100% Combed Cotton.
Colours: Black, Cadium, Grove, Navy, White. Sizes: S-XXL.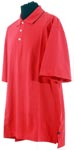 Callaway Eagle Tipped Jersey Polo - CS16016
100% Cotton Three button Open Sleeve Polo with contrast tipping. Available in: Black/Bone White, Crimson/Navy, Sky/Navy, White/Navy.
he One Black will give golfers a new perspective on the game by taking them to places in the fairway they have only dreamed of reaching.
Sizes: S-XXL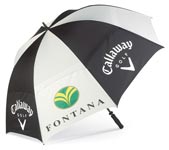 Callaway Golf Umbrella
Vented Black and White panelled brolly, with Callaway logo printed onto 4 Black panels.
The double canopy design gives extra strength in windy conditions.
Your logo printed in up to 5 colours onto 2 white panels.
Minimum Order: 25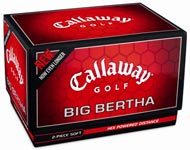 Callaway Big Bertha
Solid Core, 2 piece distance technology for power and performance. Core: Highly resilient, ultra-low compression core with proprietary formulation yields feel previously unheard of in a 2-piece golf ball.
Cover: Firm, durable ionmer cover for long drives and even longer playability. Available in dozens, White only.
Print Area: 25mm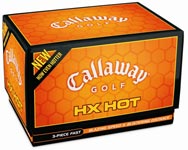 Callaway HX Hot
New 3-piece construction that delivers blistering ball speed and surprisingly soft feel.
Features the revolutionary HEX Aerodynamics for consistent ball flight.
Available in dozens, White only.
Print Area: 25mm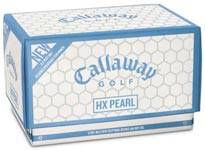 Callaway HX Pearl
New for 2007.
Exceptional distance and soft feel - Designed with the female golfer in mind, HX Pearl performs best for players with slow swing speeds.
Available in dozens, White only.
Print Area: 25mm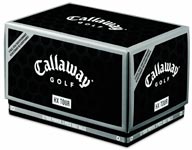 Callaway HX Tour
This ball has the thinnest cover of all the Callaway balls with a larger core which will give you profesional velocity and flight performance.
The most technologically advanced golf ball Callaway Golf has ever produced Patented HEX Aerodynamic pattern optimized for stronger ball flight, greater potential distance.
Available in dozens, White only. Print Area: 25mm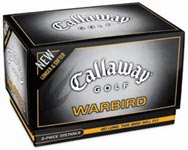 Callaway Warbird
The Callaway Warbird is a two-piece ball designed for distance, pure and simple. A firm ionomer cover and a high-energy core help provide greater potential distance without the rock-like feel of some distance balls.
Built for distance, durable 2-piece balls with a supercharged core help you get the most out of every swing. Available in dozens, in White only. Print Area: 25mm.