AWARDS - Lorente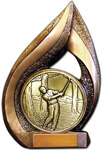 Lorente AW100- The Flame Trophy
Reward achievement in an elegant way with these beautiful sculptures. Combining high tech materials with unsurpassed hand finishing, our Flame awards recognize a winner in a most impressive manner.
Holds your club Lorente 2" medallion.
Available in three sizes: 13" high, 9" high or 7" high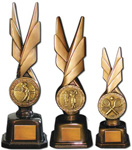 Lorente AW400- The Phoenix Trophy
Reaching for the sky, the Phoenix expresses the thrill of victory with style.
Included is your custom-minted 2-inch Club Lorente Medallion.
Brass engraving plate included.
Available in three sizes: 14"inch, 12" high, 9" high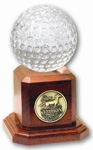 Lorente AW950/940/910- Rosewood & Crystal Awards
Perfect for prizes for your golf day, these superb quality Rosewood & Crystal Awards are uniquely styled for victory in today's modern world.
Available in 3 sizes: AW950-8" AW940-6.75" or AW910-3"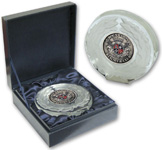 Lorente AW960- Glass Award
A beautiful award made from pure, solid crystal, with your 2-inch custom-minted Club Lorente Medallion as the centerpiece.
Participants will proudly celebrate their winning day when taking home this distinctive award. Includes a luxurious gift box.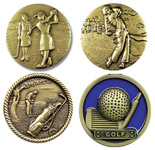 Lorente Stock medallions 2
Have an event next week? Lorente also stock many styles of 2" medallions of sports and organiszations that fit all the Club Lorente 2" products, which means that orders can be turned round quicker than personalized items.
Available in classic, high relief or stainded glass.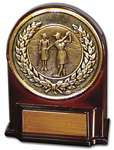 The Medallion Award
A prestigious medallion award enclosed within a polished and laquered classically-designed base.